When it comes to the competitive arena of real estate, the ability to generate leads is necessary. If you're wondering how to generate leads for real estate, you're on the right track to flourishing in this field.
Lead generation is the lifeblood of the real estate industry. It's identifying and cultivating potential clients, turning them into eager buyers or sellers.
In simpler terms, it's finding individuals genuinely interested in purchasing or selling properties and connecting with them.
For real estate companies, lead generation is a necessity. It links agents, clients, developers, investors, and tenants. It's how businesses grow, expand their client base, and thrive in a competitive market.
In this blog, we'll explore the strategies, tips, and tools you need to master the art of lead generation in real estate. Whether you're a seasoned agent or just stepping into the industry, these insights will set you on the path to success.
So, let's discover the key to expanding your real estate horizons through effective lead generation.
7 Strategies to Generate Real Estate Leads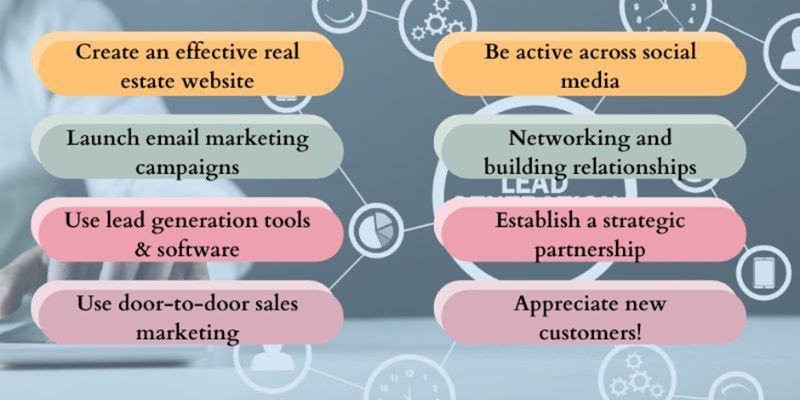 Generating real estate leads involves a systematic process, from attracting potential leads to converting them into loyal clients. Here are the top key strategies to master the art of real estate lead generation:
Create an effective real estate website
Active across social media
Launch email marketing campaigns
Networking and building relationships
Use lead generation tools and software
Establish a strategic partnership
Use door-to-door sales marketing
Let's explore these strategies in detail so you can understand how to implement them and improve lead generation for your real estate business.
1. Create an Effective Real Estate Website
In the digital age, a well-designed real estate website is your primary tool for attracting and converting leads. A professional website should be more than just an online brochure; it should be a dynamic platform that engages and informs potential clients.
User-Friendly Design: Your website should have a clean and intuitive design, allowing visitors to easily navigate property listings, blog posts, and contact forms. Ensure it's responsive to work seamlessly on both desktop and mobile devices.
Informative Content: Content is king in the online world. Your website should offer valuable information about the real estate market, buying and selling tips, neighborhood guides, and more. High-quality blog posts, videos, and infographics can make you an industry expert.
Property Listings: Property listings are the heart of your website. They should be detailed, up-to-date, and include high-quality images and videos. An advanced search functionality helps visitors find properties that match their criteria effortlessly.
Contact Forms: Make it easy for visitors to contact you. Contact forms should be strategically placed throughout the website, allowing potential leads to reach out with inquiries or requests for more information.
2. Active Across Social Media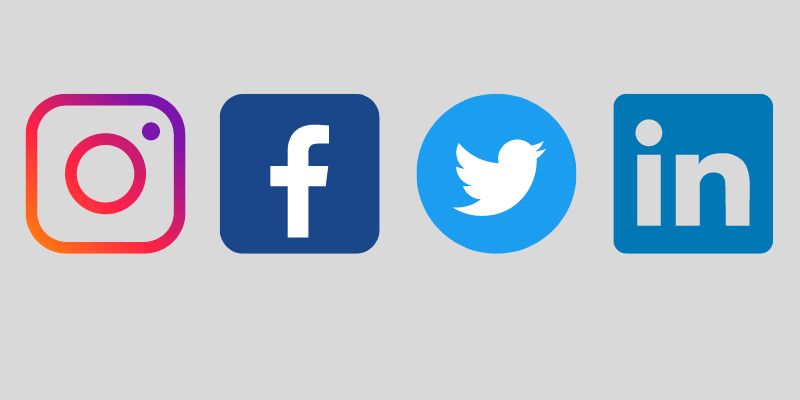 Social media platforms are powerful tools for connecting with potential clients, building your brand, and generating leads. Here's how to effectively utilize them:
Joining Communities and Groups: Engage with real estate communities and local groups relevant to your market. Share your insights, answer questions, and establish yourself as a knowledgeable and trustworthy agent.
Paid Advertising: Social media platforms offer targeted advertising options. Platforms like Facebook and Instagram allow you to create cost-effective ads that reach your desired audience based on demographics, interests, and behavior.
3. Launch Email Marketing Campaigns
Email marketing remains one of the most effective ways to nurture leads and convert them into clients. Here's how to do it right:
The Right CRM Platform: Invest in a robust Customer Relationship Management (CRM) platform to manage your contacts effectively. This tool helps you segment your leads, automate email campaigns, and track interactions.
Personalized Content: Craft personalized emails that provide value to your leads. Share market insights, property updates, and exclusive offers to keep your audience engaged and informed.
4. Networking and Building Relationships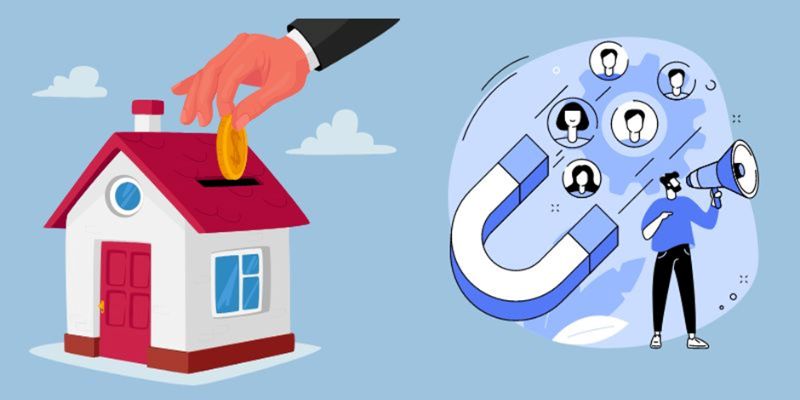 Real estate is a people-centric industry; networking is pivotal in lead generation. Here's how to make the most of it:
Attend Local Events: Attend local real estate events, conferences, and networking meetups. Building face-to-face relationships can lead to valuable referrals and partnerships.
Industry-Adjacent Connections: Don't limit your networking to real estate professionals. Build relationships with professionals in related industries, such as mortgage brokers, home inspectors, and interior designers. These connections can refer clients to you and vice versa.
5. Utilize Lead Generation Tools and Software
Lead generation tools and software can streamline your efforts and help you manage leads more effectively. Here are some essential points:
Zillow Premier Agent and Realtor.com: These platforms provide exposure to a vast audience and allow you to connect directly with potential clients.
HubSpot CRM and Propertybase: Customer Relationship Management (CRM) systems like HubSpot and Propertybase help you organize leads, track interactions, and automate specific tasks, making lead management more efficient.
6. Establish Strategic Partnerships
Building strategic partnerships can significantly boost your lead-generation efforts. Here's how:
Niche Partnerships: Partner with businesses in your niche but not in direct competition with you. Mortgage lenders, bankers, insurance companies, and even home staging services can refer clients to you.
7. Implement Door-to-Door Sales Marketing
While digital marketing is crucial, don't overlook the power of personal interactions through door-to-door sales marketing:
Personal Connection: Physically visiting homes and neighborhoods allows you to establish a personal connection with potential clients. This approach sets you apart in a digital world and can leave a lasting impression.
By effectively implementing these strategies, you can enhance your real estate lead generation efforts and grow your client base.
Conclusion
Mastering the art of lead generation is paramount for success in the competitive real estate industry. The strategies outlined in this guide can help you understand how to generate leads for real estate.
From creating an informative website to leveraging social media, email marketing and networking are the building blocks of a thriving real estate business – the process involved in lead generation can transform your real estate business.
Effective lead generation is not just about quantity; it's about quality. You can build lasting relationships and a sterling reputation in the field by nurturing and converting leads into clients.
However, the real estate landscape continually evolves, and staying ahead requires ongoing education and training. At ThinkProp, we offer comprehensive real estate training programs that can equip you with the skills and knowledge needed to excel in lead generation and all aspects of the industry.