Dubai's booming real estate market offers exciting opportunities for those looking to dive into the world of property transactions. As a real estate broker, you'll play a crucial role in connecting buyers and sellers, helping people find their dream homes or lucrative investment properties.
Let's find out how to become a real estate agent in Dubai. In this guide, we'll walk you through the essential steps to becoming a real estate agent in Dubai, from the necessary qualifications to the practical experience you'll need.
The Skills and Qualities Required to Become a Successful Real Estate Agent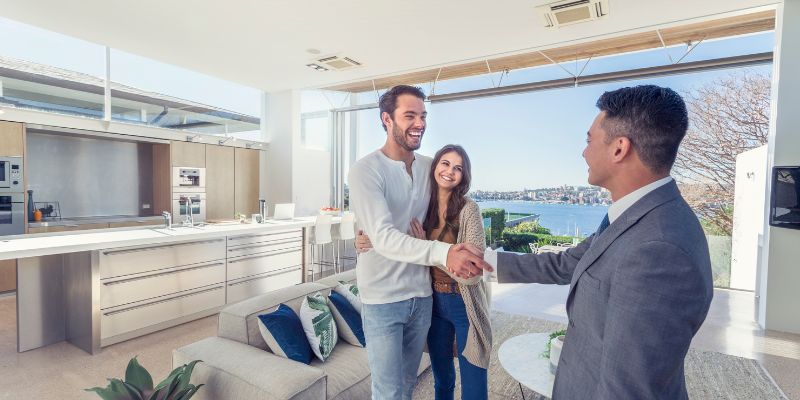 You need to understand the different skills and qualities required by you before you start your real estate career. So let us go over them together:
Expanding Professional Connections: Networking allows you to meet and connect with a wide range of individuals, including fellow agents, brokers, investors, lenders, developers, and potential clients.
Sharing Knowledge and Expertise: Networking events, industry conferences, and online communities provide platforms for professionals to exchange ideas, experiences, and industry insights
Generating Referrals and Leads: Real estate professionals can establish trust and credibility among their peers through networking.
Here are some tips that you can use for building your professional network in the UAE real estate market:
Attend industry events such as conferences and seminars.
Join professional associations, for example, the Dubai Real Estate Institute (DREI) or the Dubai Land Department (DLD).
Utilize online social media platforms such as LinkedIn to connect with professionals in Dubai's real estate industry.
Seek mentors and advisors experienced in the real estate industry for guidance.
To be a successful real estate agent, you must build rapport with clients, colleagues, and stakeholders, have good client engagement, excellent negotiation skills, and ensure your clients are satisfied!
Lastly, networking skills are essential because they enable real estate professionals to expand their connections, establish relationships, and access a wider pool of potential clients. In addition, a strong network can provide valuable referrals, insights, and collaborative opportunities.
4 Steps to Become a Real Estate Agent in Dubai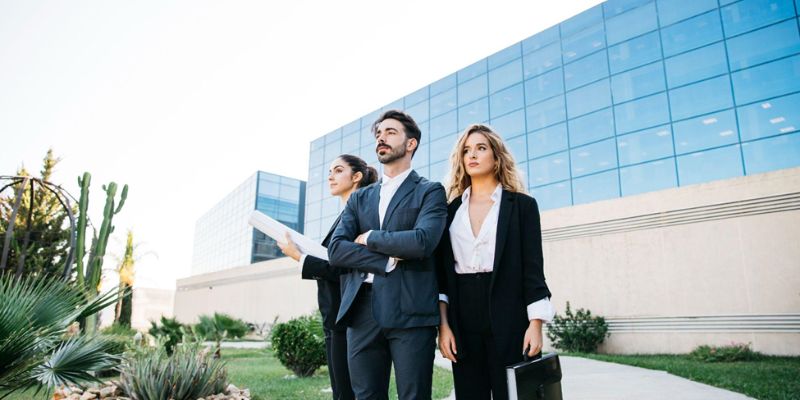 Are you looking to start your career in real estate in Dubai but are wondering where and how to start? Here are 4 steps you can follow to become a real estate agent:
1. Get a Residency Visa (required for foreigners)
If you want to work as a real estate agent in Dubai, having a valid visa is of utmost importance, as it ensures legal authorization to reside and engage in employment activities in the emirate. In addition, a VISA will allow you to:
Have legal compliance with the immigration laws and regulations of the United Arab Emirates (UAE).
Be eligible for employment, allowing you to legally seek employment, enter into contracts, and receive the necessary benefits and protections.
Have access to services such as opening bank accounts, renting accommodation, and obtaining utilities.
How can you obtain a VISA? Keep reading to find out!
Business Sponsorship: This will involve being hired by a company or setting up your own business in Dubai. Your sponsoring employer will take responsibility for the visa process.
Spousal/Family Sponsorship: This is another common way many people obtain a visa in Dubai. If you have a spouse or family member living in Dubai, they can sponsor you to live and work in Dubai.
The Emirates ID is a mandatory identification card for residents in the UAE, including Dubai. Here's an overview of the process of obtaining an Emirates ID:
Once you have your resident visa, you can submit your application for the Emirates ID.
Next, you must visit an Emirates ID center to provide biometric data, including fingerprinting and a photograph.
After your biometric data is collected, the Emirates ID card goes through the production process, and you will be notified when it's ready or delivered to you.
Remember that your Emirates ID has a validity period, typically matching the validity of the residence visa. To maintain legal compliance, it is crucial to renew the Emirates ID before it expires.
2. Pass the Certified Training for Real Estate Brokers
The Dubai Real Estate Institute (DREI) is a renowned regulatory body in the real estate industry of Dubai, United Arab Emirates (UAE). Established by the Dubai Land Department, DREI plays a significant role in providing professional training and development programs for real estate practitioners in the emirate.
ThinkProp provides students who want to be real estate agents with an official certificate of completion, allowing them to practice the real estate broker profession in Dubai.
One such course is the Dubai Broker Course, a training program specifically designed to help agents and brokers improve their skills in real estate sales and leasing brokerage, as well as prepare them to pass the RERA exam successfully.
The topics included in the course are:
Broker Guidelines: this includes guidelines for brokers to apply for contracts and technical brokerage concepts as well as definitions.
Sales: this will include the sales process, Real Estate Sale Cycle, and Sales Models.
Leasing: an overview of leasing brokers.
Laws, Regulations, and Obligations: here, you will be taught the code of ethics and the Do's and Don'ts for Real Estate Brokers.
The time duration for this course is 8 hours, and it is a beginner-level certification offered in English and can be attended virtually or in person. If you attend the entirety of the course and obtain a score of at least 70%, you will be provided with a certification upon completion.
3. Pass the Real Estate Regulatory Agency (RERA) Exam
Passing the RERA (Real Estate Regulatory Agency) exam is an essential step for you in seeking to become a licensed real estate professional in Dubai, United Arab Emirates (UAE). RERA governs and supervises the real estate sector in Dubai and administers this exam.
The exam will evaluate your knowledge and comprehension of essential aspects of the real estate industry, including real estate laws, regulations, procedures, contracts, property valuation, marketing, ethics, and professional conduct.
Let us now walk you through the exam fee and eligibility criteria:
If you have a Bachelor's degree, the exam fee will be AED 3,200; however, if you do not have a bachelor's degree, the exam fee will be AED 6,300.
In order to be eligible for the RERA exam, you must hold a valid residence visa in Dubai, meet the educational qualifications outlined by RERA and complete the training or courses that RERA approves.
ThinkProp's Real Estate Training courses, such as the Dubai Broker Course is designed to prepare individuals for the RERA exam. This is because:
The curriculum is comprehensive and covers key topics and knowledge areas.
The program is conducted by experienced industry professionals who have in-depth knowledge of the UAE real estate market.
It incorporates exam-oriented content and strategies to help you understand the exam structure, question types, and scoring methodology.
Through such trainings, you can acquire the knowledge, skills, and confidence needed to successfully pass the RERA exam and obtain a real estate license in Dubai.
4. Obtain Your Agent's License
Once you have passed the RERA exam, you can proceed with the process of obtaining a broker's license, which allows them to engage in real estate brokerage activities legally.
Here is an overview of the process:
1. Complete your broker's license application form
2. Gather required documents such as:
Valid passport copy and Emirates ID.
Copy of the RERA exam pass certificate.
Educational certificates and qualifications.
Experience certificates (if applicable).
No Objection Certificate (NOC) from the employer (if applicable).
Passport-size photographs.
3. Submit your application and documents.
4. Pay your application fee.
5. RERA will conduct background verification.
6. Upon successful completion of the application process and verification, RERA will issue your broker's license.
Maintaining an active and valid broker's license is crucial if you want to be a real estate professional in Dubai. Here are some reasons why license renewal is crucial:
Your broker's license ensures that you are operating in compliance with the regulations and laws set by RERA.
It enhances your professional credibility and reputation in the real estate industry.
It will allow you to continue your practice without interruption and will enable you to serve clients, engage in transactions, and take advantage of opportunities in the market.
The renewal process for your license will involve submitting the required documents, paying the renewal fee, and meeting any additional criteria set by RERA. It is essential to adhere to the renewal timelines and comply with any continuing education or professional development requirements specified by RERA.
4 Tips for Real Estate Agents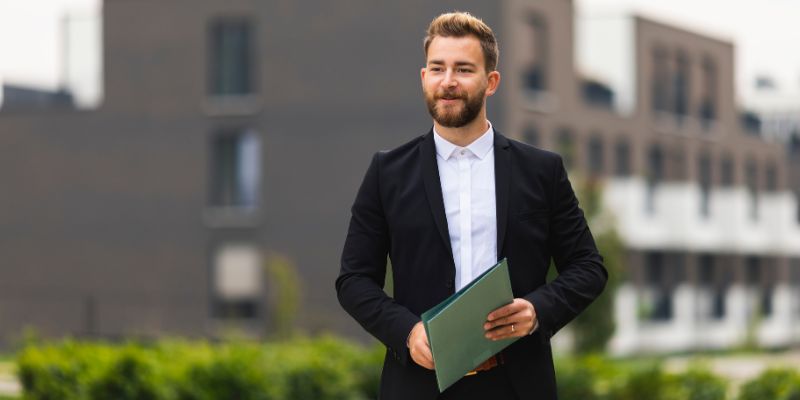 The real estate market is highly competitive, so here are some tips to help you in your quest to become a real estate agent in Dubai.
1. Develop Marketing and Sales Skills
Marketing and sales play a vital role in the real estate industry, as they are key components for achieving success in attracting clients, selling properties, and building a strong reputation.
To attract clients, as a real estate professional, you can employ strategies like showcasing high-quality property photos and videos, highlighting unique features and selling points, offering virtual tours, leveraging testimonials and reviews, and providing accurate and up-to-date property information. In addition, building strong relationships, understanding client needs, and delivering exceptional customer service are also crucial in attracting and retaining your clients.
To increase your chances of standing out in the competitive market and your chance of success in property sales, you can combine targeted marketing efforts, innovative techniques, and personalized approaches.
2. Build a Professional Network
Networking plays a crucial role in the real estate industry as it allows you to build relationships, create opportunities, and establish a strong presence in the market. In addition, networking creates referral opportunities, knowledge sharing, collaborative ventures, and professional development.
Here are some tips for building a professional network in Dubai:
Attend industry events as they provide a platform to connect with industry professionals, build relationships, and exchange ideas.
Join Associations and Organizations.
Utilize social media platforms, real estate forums, and professional networking websites.
Be proactive by reaching out to professionals in the industry, attending local events, and initiating conversations.
Offer assistance, share valuable information, and be a resource to others in your network.
3. Gain Practical Experience
Gaining practical experience is crucial in the real estate industry because:
It helps bridge the gap between classroom learning and the practical complexities of the real estate industry, equipping individuals with the skills and understanding necessary to navigate challenges effectively.
Enables the development of essential skills such as negotiation, client communication, market analysis, property evaluation, and deal closing.
Provides a deeper understanding of market dynamics, emerging trends, and regulatory requirements.
Individuals can connect with established professionals, potential clients, and industry stakeholders.
Internships, mentorships, or working under an experienced real estate agent provide invaluable opportunities for growth and development in the industry. In addition, they will provide you with practical learning, industry insights, mentorship, guidance, and confidence building.
Here are some ways to find opportunities to gain practical experience in Dubai's real estate industry:
Research Real Estate Firms.
Network.
Reach out to Real Estate Professionals.
Online platforms and job portals.
4. Establish an Online Presence
An online presence as a real estate agent is essential in today's digital age. It will allow you to showcase your expertise, expand your reach, and attract potential clients. Here's why it's important:
An active social media presence increases your visibility.
An online presence establishes credibility and trust.
Potential clients can find you through online searches, website inquiries, or social media engagement, leading to increased business opportunities.
To build a professional online presence, you can create a user-friendly website with property listings, informative content, and contact information. Leverage social media platforms like Instagram, Facebook, and LinkedIn to engage with your audience, share valuable content, and showcase property listings through high-quality visuals and engaging captions. Regularly update your online platforms to stay relevant and maintain an active online presence.
What Jobs You Can Do As A Certified Real Estate Agent?
Below are the jobs you can pursue as a certified real estate agent. Keep reading to find out:
Average Salary: AED 4,109 per month
Average Salary: AED 5,000 per month
Average Salary: AED 4,463 per month
Average Salary: AED 7,000 per month
Average Salary: AED 10,000 per month
FAQs – How to Become a Real Estate Agent in Dubai
1. Do you need help getting into real estate in Dubai?
The Dubai real estate market is extremely competitive; therefore, you will have to work hard, engage regularly with your clients and learn to identify their needs.
2. Do you need a degree to be a real estate agent in Dubai?
In Dubai, a specific degree is optional to become a real estate agent. However, to work as a real estate agent in Dubai, you are required to meet specific eligibility criteria and obtain a real estate agent license issued by the Dubai Real Estate Regulatory Agency (RERA).
3. How much money does a real estate agent make in Dubai?
The average monthly salary of a real estate agent in Dubai is AED 3,306.
4. How much does it cost to get a real estate license in Dubai?
The RERA training required to earn a real estate license in Dubai costs AED 3000.
Conclusion
In summary, the answer to "How to become a real estate agent in Dubai?" is the following steps:
Getting a residency visa if you are a foreigner.
Passing the certified training required for real estate brokers.
Passing the real estate regulatory agency (RERA) exam.
Obtaining your agent's license.
To be a real estate broker in Dubai's competitive market, you may need professional guidance, which you can gain from Think Prop's real estate training programs. We hope this helps you in your journey toward pursuing a career in real estate. Good luck!