When buying or selling property, one important factor is ensuring that it can be sold legally without any issues. How do we do that? That's where the verification certificate comes in.
This article will answer some of the most common questions about the verification certificate, its importance, and how it differs from the Title Deed. Finally, it will touch on how to issue the verification certificate.
What is the verification certificate?
A verification certificate is a document that certifies that a particular property is not currently mortgaged. As such, it is primarily required by banks and financial institutions before buying, selling, or issuing a loan on a real estate property.
What is the difference between the verification certificate and the title deed?
The main difference between the title deed and verification certificate lies in their uses. The title deed is evidence that a property belongs to a certain individual or group of owners. On the other hand, a verification certificate indicates whether a property has an active mortgage on it or not.
Another difference between the two documents is that the title deed features an illustrative diagram of the property showing its exact location and dimensions, while the verification certificate lists the transactions made on the unit, including industrial land lease agreements, as well as Musataha agreements.
How can I issue a verification certificate?
There are two ways to issue a verification certificate. You can either issue it through the "Services" panel on the DARI ecosystem after logging in using your unified number (UID), UAE pass, or Emirates ID (EID) number, or you can also issue it through the Tamm portal on the Abu Dhabi City Municipality (ADM) website. The fees for issuing a verification certificate are AED 90.
What does the verification certificate look like?
Here is a snapshot of a sample verification certificate for your reference.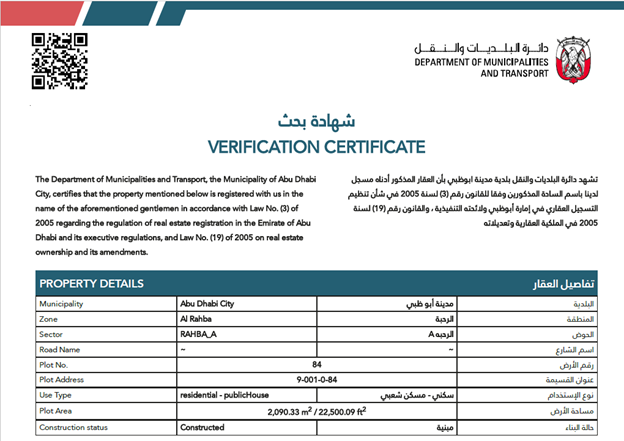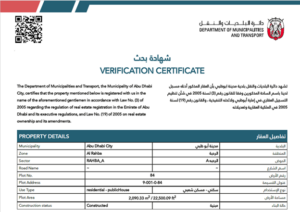 I have more inquiries about the verification certificate. Where do I ask?
If you have any further inquiries about the verification certificate, there are several ways to seek help.
The DARI knowledge base: You can access the DARI knowledge base here. On that page, you will find various inquiries already answered for your convenience, or you can also submit a new inquiry which will be typically answered in a few hours.
The DARI live chat: You can access the DARI live chat service on the DARI homepage by clicking on the red icon at the bottom right of the page, and one representative will help you with your inquiries.
By phone or email: Feel free to send your inquiries by email to [email protected], or call us at 600523333.