The term "off-plan property" is gaining prominence in UAE real estate, especially in Dubai. It refers to a property, often in the early stages of development, that you can purchase before its completion. But why is Dubai a hub for such properties?
Off-plan property in Dubai is a unique opportunity for real estate enthusiasts. It allows you to invest in properties while they are still on the drawing board or under construction.
Doing so can often secure these properties at a lower cost than when they're fully developed. These projects, managed by reputable developers, offer a glimpse into Dubai's future and are known for their luxurious and modern features.
This is why exploring this guide to off-plan property in Dubai is essential.
This guide will walk you through the ins and outs of off-plan properties, helping you understand the significant advantages and potential pitfalls of investing in this exciting market.
So, let's dive in and explore the dynamic world of off-plan property in Dubai.
Factors to Consider Before Investing in Off-Plan Property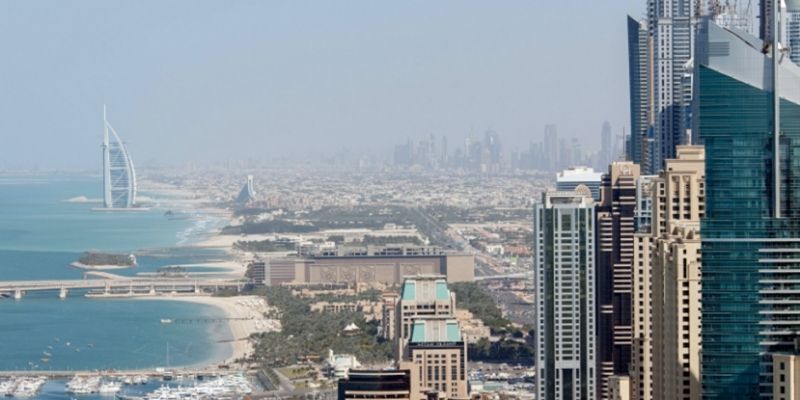 Investing in off-plan property in Dubai can be a lucrative venture, but it's not a decision to be taken lightly. Several vital factors deserve your consideration before committing to such an investment.
The off-plan development sales course Thinkprop offers can help the real estate agent understand the importance of selling off-plan property.
1. Location Analysis: Choosing the Right Area
The location of your off-plan property is of paramount importance. Each area in Dubai offers unique advantages, such as proximity to business hubs, leisure facilities, or educational institutions. Determine which area aligns best with your investment goals.
2. Developer Credibility and Track Record
Research, the developer behind the project. Look for a reputable company with a track record of completing projects. A trustworthy developer is likelier to deliver on time and meet quality standards.
3. Market Trends and Demand Analysis
Dubai's real estate market is dynamic. Stay updated with market trends and understand the demand for properties in your chosen location. This knowledge helps you gauge the potential for returns on your investment.
4. Assessing Project Plans and Amenities
Scrutinize the project's details. What are the proposed amenities? How do these align with your target market or your personal preferences if it's for personal use? Analyze the project's plans, blueprints, and infrastructure to ensure they meet your expectations.
Successful off-plan property investment in Dubai depends on choosing the right location, collaborating with a reputable developer, staying informed about market trends, and assessing project plans and amenities.
Each factor contributes to a well-rounded evaluation, allowing you to make informed decisions that align with your investment objectives.
Documents Required for Buying Off-Plan Property
Here is a list of the essential documents you'll need when buying off-plan property in Dubai:
Emirates ID (Copy)
Passport (Copy)
Sales and Purchase Agreement (SPA)
Reservation form
Mortgage contract (If applicable)
These documents are crucial for facilitating off-plan property purchases in Dubai, ensuring a smooth and legally sound transaction.
Benefits of Buying Off-Plan Property in Dubai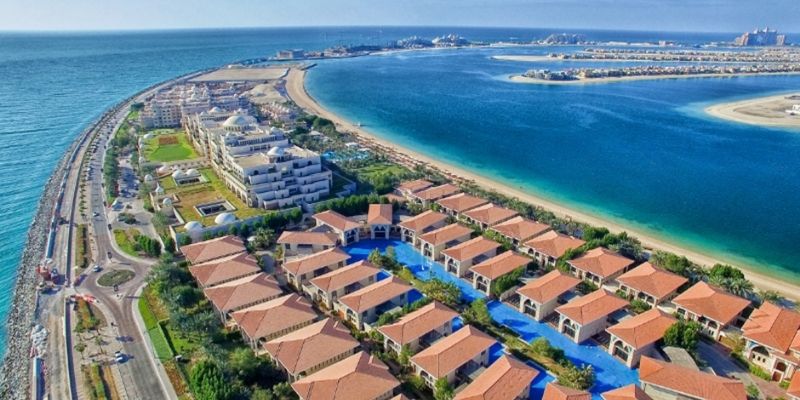 Purchasing off-plan property in Dubai comes with a range of advantages:
Lower Prices and Flexible Payment Options: Off-plan properties are typically priced lower than ready-to-move-in units. Furthermore, developers often offer flexible payment plans, making it more financially manageable for buyers.
High Rental Ratio: Dubai's strong rental market allows off-plan property investors to enjoy a high rental yield. This can lead to consistent rental income and a better return on investment.
High Capital Gains: Off-plan properties often significantly appreciate value over time. Buyers can benefit from substantial capital gains when selling the property.
Various Off-Plan Projects: Dubai's real estate market offers various off-plan projects, from luxurious apartments to waterfront villas. This variety allows investors to choose properties that align with their investment goals and preferences.
Considering these benefits, you can make an informed decision about investing in off-plan property in Dubai and reap the rewards of this dynamic real estate market.
Risks of Purchasing an Off-Plan Property in Dubai
Investing in off-plan property in Dubai can be rewarding. Still, it's essential to be aware of the associated risks:
Delayed Handover and Completion: One of the primary risks is potential delays in project completion and handover. Construction or administrative setbacks can lead to extended waiting periods.
Fluctuation of Market Conditions: The real estate market can be influenced by various factors, including economic conditions and global events. Market fluctuations may affect the property's value and your investment.
Quality Concerns: Buyers may face quality-related issues when the completed property doesn't meet their expectations. Researching the developer's track record is essential to reduce this risk.
Awareness of these risks allows investors to make informed decisions and take necessary precautions when buying off-plan property in Dubai.
How to Buy an Off-Plan Property in Dubai?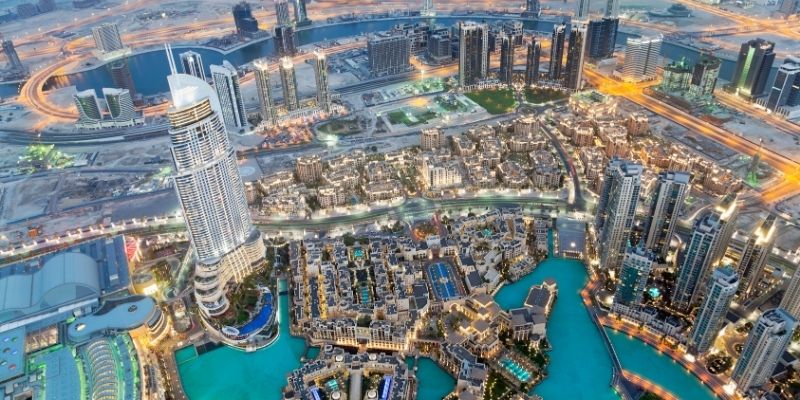 Buying off-plan property in Dubai can be rewarding. Here are the steps to guide you:
1. Decide What You're Looking For.
The initial step in purchasing an off-plan property in Dubai is clearly understanding your property requirements. This includes setting a budget, specifying your preferred location within Dubai, and identifying the specific features or amenities you desire in your future property.
Whether it's a luxurious apartment in the heart of the city, a family villa in a serene suburban area, or a property with unique amenities, having a clear vision of what you're looking for is crucial to guide your property search effectively.
2. Register With a Trusted and Experienced Real Estate Agent.
Real estate agents play a pivotal role in the property-buying process. Research and select a reputable, experienced real estate agent with a strong track record in off-plan property transactions. Consider factors such as their expertise, client testimonials, and industry reputation.
Working with a reliable agent ensures you have a knowledgeable guide throughout your property search, from helping you identify suitable options to navigating the complexities of contracts and negotiations.
3. Choose the Ideal Property
This step involves assessing the various off-plan properties in the Dubai market. Factors like location amenities, developer reputation, and the potential for future market appreciation should be considered.
It's essential to align your property choice with your long-term goals, whether for investment or personal use. Conduct thorough research and consultation with your real estate agent to make an informed decision that suits your preferences and financial strategy.
4. Book The Off-Plan Property
Once you've identified a property that aligns with your requirements, the next step is to book it. This involves making an initial deposit, usually around 5-10 percent of the total property price, to reserve the unit.
You must also sign the booking form and the Sales Purchase Agreement (SPA) for the chosen property. This step secures your interest in the off-plan property, and it's vital to ensure that all terms and conditions are clearly outlined in the SPA.
5. Pay Your Pre-decided First Installment
Following the booking and down payment, you must adhere to the payment plan you've chosen for the property. As per your selected payment plan, the first installment must be paid within a specific timeframe. This installment typically represents a significant portion of the total property price.
Additionally, you'll be required to pay a 4 percent DLD registration fee and a 1000 Dirhams OQOOD fee within the next 30 days after making the booking. Ensuring timely payments is crucial to keeping your property acquisition on track.
6. Signing The SPA
The Sales Purchase Agreement (SPA) is pivotal in the off-plan property buying process. The Dubai Land Department issues it and outlines the terms and conditions of the property transaction.
The SPA is sent to you after paying the booking amount and clearing the down payment. This document must be duly signed by the authorized signatory from the developer's end before it's returned to you.
It is advisable to seek legal advice before signing the SPA to ensure you fully understand and agree with the contract's terms. The SPA safeguards your rights as a property buyer. It serves as a legally binding agreement between you and the developer.
7. Pay Off Installments That Are Due
Depending on your selected payment plan, you'll need to pay off the subsequent installments of the property purchase price before the completion date of the off-plan project. This step is crucial as it determines your eligibility for receiving the property once the project is completed.
Ensuring you adhere to the payment schedule is essential for a smooth property acquisition process.
8. Date of Project's Completion
Once the off-plan property project is finished, the developer will send a completion notice to all clients who have invested in the project.
This notice marks a significant milestone in the property acquisition process, indicating that the project is ready for handover to the buyers. Keep an eye on this date, as it's a crucial aspect of your property journey.
9. Inspection and Handover
After settling the pre-decided payment amount for handover according to your payment plan, the developer will invite you to inspect your property. This is a critical step as it allows you to verify that the property meets the promised standards and is free from defects or issues.
Hiring a third-party inspection team to conduct a comprehensive assessment is advisable. Having your real estate agent alongside you for the inspection can also be beneficial. This thorough inspection ensures that your property is in excellent condition and ready for handover.
Costs of Buying an Off-Plan Property
Buying an off-plan property in Dubai involves several costs and fees that potential buyers should know. One of the significant expenses is the Property Registration Fee, which typically represents 4% of the total property value.
This fee is a mandatory payment to the Dubai Land Department when registering your property's ownership. In addition to this, you'll need to cover the Oqood Registration fee, which amounts to AED 3000.
This fee is necessary for registration and is often part of the initial payments. Understanding these expenses is crucial in the financial planning for your off-plan property purchase.
It's advisable to consult with a financial advisor or real estate expert to ensure you have a clear overview of the associated costs involved in your investment.
Conclusion
Purchasing an off-plan property in Dubai can be rewarding, offering lower prices, flexible payment options, high rental ratios, and substantial capital gains.
However, it comes with risks and intricacies that every buyer should consider. Understanding the costs, risks, and benefits is vital to making informed decisions.
Professional guidance is invaluable if you want to venture into the world of off-plan property in Dubai.
At ThinkProp, we offer comprehensive real estate training programs that can equip you with the knowledge and skills required to navigate the Dubai property market effectively.
Whether you're a seasoned investor or a first-time buyer, our courses cover all aspects of real estate, ensuring you're well-prepared for your off-plan property journey.
Don't hesitate to take the next step in your real estate endeavors; enroll in our programs and get started today. Your investment future awaits in the vibrant real estate landscape of Dubai.